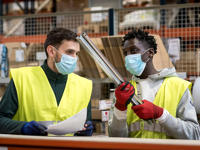 Accelerating our talent, diversity and inclusivity practices

Companies will not grow sustainably if they are unable to attract, retain and get the best out of diverse talent. Bunzl is a large family of local businesses serving multiple sectors across a wide range of geographies. The companies in our Group have a track record locally of creating an inclusive working environment where people can bring their best wherever they come from.
However, we know there is more we can do to build on this diversity of talent to create opportunities for progression into leadership roles from under-represented groups. We are committed to improving the representation of women and those from minority ethnic backgrounds, particularly in the leadership population, and will continue to take further steps to ensure that we have a truly inclusive culture.
We make sure we support and develop our people. This takes many forms including formal coaching in all our business areas, mentoring programmes and e-learning to enable easy access to core skills development. Growing our talent pipelines and increasing the diversity of people we recruit and promote within the business is recognised as critical to our future success.
We use a digital solution for understanding the views of our team that can be completed easily by everyone globally and analysed quickly. The new solution enables us to analyse the data by different employee segments, such as gender, tenure or age, giving us invaluable insights into how inclusive our culture is.


In October 2021 we surveyed all our employees and we are incredibly proud of the results we received:
80%
responded during the survey period
91%
say their work is meaningful to them
88%
are proud to work for Bunzl
92%
know what to do if have a concern about health and safety at work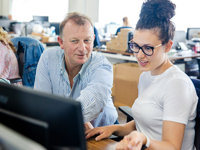 Taking further action for our people
Our focus is to drive health and safety, talent and diversity in Bunzl forward
Encouraging more women into leadership roles through focused and targeted activities including giving all high potential females an internal or external mentor, ensuring that we consider female candidates where we can for senior leadership roles, and continuing with the roll out of our successful women's networks

Achieving parity of engagement scores across ethnic groups in our North American business, and other parts of the Group where data collection is possible

Providing a voice for under-represented colleagues, and acting on their feedback to address any real or perceived barriers to engagement.

Providing a safe workplace for all employees and creating a culture where health and safety are key values

Identifying the next generation of leaders from a more diverse pool of talent, balancing broader capabilities while retaining entrepreneurial skills.

Capitalising on our compelling employment brand

Building on technology-enabled hybrid working to create a networked, collaborative organisation that attracts more diverse talent
Join our team
Our people underpin everything we do and are the focus of our business. Find out more about current opportunities at Bunzl.