Sustainability in practice
Sustainability has been at the top of Bunzl's agenda for many years

Bunzl businesses throughout the world have rallied around the notion that they play a particularly significant role when sourcing and distributing products, so the choice of suppliers has a monumental impact. By offering an array of eco-friendly, affordable and reliable products to clients, in the most environmentally responsible and economical way, Bunzl plays a pivotal role in the race to prevent and offset its impact on the environment.

Here we share a few examples of recent sustainability focused initiatives across the Group.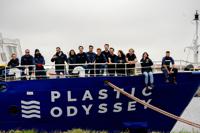 Bunzl France has joined forces with two other prestigious brands, L'Occitane and Clarins, in sponsoring Plastic Odyssey, a ship whose voyage was conceived to increase public awareness regarding maritime plastic pollution.

The campaign, which will run over three years and call into 30 ports on three continents, set sail from Dunkirk this summer.
Among the ship's 20 crew members are captains of industry, executives, engineers and scientists who are conducting research along the way. On board, there is a learning centre and a recycling unit accessible to local visitors, free of charge. The blueprint for the recycling machines on board is available as an open-source document, so amateur engineers can build their own unit for free, from materials readily available to them.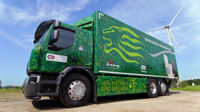 King Belgium and their distribution partner, Transport Van Oort have recently added a Renault electric vehicle to its fleet of 18 16-ton trucks. The pilot programme began in 2020 and was fully implemented in August this year. The company delivers healthcare and hygiene products to institutions such as schools, contractors, caterers, hospitals, government and amusement parks throughout Belgium.

The autonomy of the battery allows the vehicle to perform deliveries for about 250km before requiring a charge, which corresponds to one full day of urban transport, before going back to the depot overnight. A battery's lifespan is still unknown, as it depends on many factors including temperature and usage, but the manufacturer has guaranteed it for at least six years.
Although electric and hydrogen vehicles are gradually increasing their presence on the roads, they are still somewhat rare, particularly for large transport trucks. Until they dominate the market entirely, Bunzl companies have also been adopting other ways to decrease their carbon footprint. This is precisely the services Ortec and Microlise are now providing to Bunzl Catering Supplies ('BCS') in the UK.

Ortec is an independent organisation commissioned to optimise fleet logistics by calculating the most efficient routes and vehicles for the company's fleet through its sophisticated optimisation software. Microlise was commissioned to execute the planned routes through its advanced satellite navigation and telematics system. The long-term objective for BCS is to look at the best way to decrease fuel consumption for its 140 vehicles. This also provides an opportunity to review how its seven depots operate and store their goods. The software allows the dedicated team of route planners to include a host of considerations when configuring the system and can swiftly adapt to accommodate urgent orders and changing customer demands.
Working with Ortec and Microlise isn't the only move BCS has made towards energy efficient transport. BCS currently has ongoing electric vehicle trials and is currently analysing which would be most suited to its business. However, it has adopted hydrotreated vegetable oil fuel for their entire fleet in central London, which gives up to an impressive 90% reduction in greenhouse gas emissions.


Greenham, also in the UK, now invite its customers to join its Carbon Offsetting Service.

Through this programme, it can offset carbon emissions on its customers' behalf. It has partnered with a British enterprise called Carbon Footprint Ltd who plant native broad-leaf species where required, such as woodlands, nature reserves, parks and farmland. The interest in planting trees on a small scale as opposed to a vast reforestation project is that native species encourage wildlife back to their habitats, while still contributing to the absorption of CO2. Carbon Footprint also provides a carbon offset project, ensuring rainforest trees are more valuable alive than as timber, thus halting deforestation in the Amazon.

At Bunzl, we embrace our role in helping to reduce emissions and pollution Company-wide, while ensuring we can continue to provide the most innovative and cost-effective solutions for our customers. It's a delicate balance, and a lofty objective, but one which is within our reach.