Our latest product innovations
The pandemic has changed how the world operates, but Bunzl companies have kept developing their research and exceptional ideas.

There is no halting progress. This certainly rings true at Bunzl, as the Group continues to address matters of gender equality, sustainability and technology to serve its clients, personnel and the planet, by continually developing creative and innovative solutions.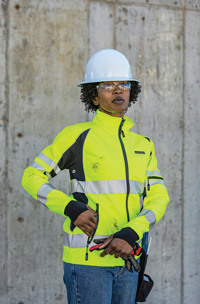 The team at Kishigo, part of Bunzl North America ('BNA'), has recently released a few articles of high-viz workwear including a vest and jacket designed for women, by women.

These highly sought-after pieces feature cinched waistlines, shorter sleeves and a trimmer body length, addressing long-overlooked considerations for comfort, and more importantly, safety for women in the workplace. Although they were originally conceived for women in construction, they have been enthusiastically adopted by a host of different users, ranging from cabin crew to bicycle commuters.
As the world continues to struggle with the environmentally sound disposal of single-use face protection, Bunzl EPI in Brazil recently developed a partnership with the manufacturer of Phitta Mask, which boasts an innovative coating that neutralises viruses and bacteria, allowing the mask to be worn for up to twelve hours and re-used safely.

Fashioned from three layers, including one to repel liquids and two to block viruses and bacteria for the wearer and a third party respectively, the mask is also silver free, non-toxic and eco-friendly, meaning it can be disposed of with conventional rubbish without posing a threat to the environment.

Danny, also in Brazil, has recently created Extreme ChemCut, a multi-protection glove designed for high-level safety and comfort for all high-risk jobs, offering mechanical, thermal, chemical and impact protection.
This has attracted the attention of new clients in the mining, drilling and oil industries around the world.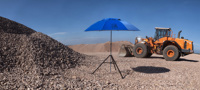 Tradespeople in the US hail the arrival of a high-tech parasol from BNA's Black Stallion, created to protect them from the rain and sun, and a patented coating also offers protection from fire. This is particularly significant for the welders who can't use conventional tents or parasols due to fire risk.

Bunzl teams are still at the cutting edge of research and development, in the interest of clients across all industries.